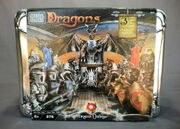 Dragons Challenge is a 2002 MegaBloks set.
Released during the first Dragons series, this is a chess based board game. It includes some Valtheran and Warfang soldiers, along with a dragon.
As the figures or the location are not named, It is strongly implied that this set is not canon to the Valtheran and Warfang conflict.