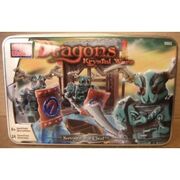 A group of sea faring
warriors
, they joined the
Draigar
to defeat Xenoz and his
Ice Vorgan
army. They helped to create the
Fyren
and
Ferroch
factions.
The Norvagen traveled around the world and arrived to the northern lands, maybe they were exploring or just attracted by the Krystals Of Power. They fought against the inhabitants of the northern lands, known as the Draigar and the mysterious race of Vorgan.
Krystal Wars
Edit
Under the command of their King Ostgard. The Norvagen made war against the Draigar and Vorgan, over 5 great Krystals Of Power. The war lasted many thousands of years. Until King Olsef and Prince Dev, allied with the Draigar to form the Fyren.
Fire And Ice Wars
Edit
After hundreds of years of war with the Draigar, King Olsef allied with the Draigar to form the Fyren faction. They fought against the Ice Vorgan, lead by Xenoz. After they defeated the Vorgan, Prince Dev and Princess Kyra allied and the ages of war between Draigar and Norvagen is finished.
Metal Ages
Edit
The Norvagen fought against the Odaku who were invading their lands.
There are many common names among the Norvagen, here are a few:
Kalborg, Varmman, Stoklo, Hallslag, Vallad, Sodergard, Tonsland, Ostgard, Ymir, Fialar, Blodag, Lodar, Norrvik, Vetnes, Veltag, Kalger, Vasterlan, Hedsund, Hiel, Thok, Bodfors, Golefud, Stalgot, Gotelag, Eldir, Dev, Norvagen Olsef, Brandish, Rendwrought, Sabrevise, Chainguard, Sledgeweld
The Norvagen have a hierarchy of kings and princes ruling their people. They are also more advanced in the arts of naval warfare than the Draigar are, judging by the fact that the Norvagen have huge Man-O-War ships and the Draigar have no fleet to speak of.
There are 2 Olsef characters, one is called the Norvagen Olsef and the other is called the Fyren Olsef. It is unclear whether these are the same character or entirely different people.
Dragons associated with the Norvagen include:
Beilhir, Draknar, Midgaard, Lindwyrm, Targon Mercury Armour Dragon, Thoron Platinum Armour Dragon, Vile Wind Sprinter Dragon
Ad blocker interference detected!
Wikia is a free-to-use site that makes money from advertising. We have a modified experience for viewers using ad blockers

Wikia is not accessible if you've made further modifications. Remove the custom ad blocker rule(s) and the page will load as expected.